Visiting Machu Picchu, one of the 7 modern world wonders, is probably your biggest dream, but did you know that there's a lot of things you can also enjoy on your trip to Cusco?. We want to share with you a list of ideas and things to do in Cusco city, what are the top places to visit, and the best things to do in one day.
¿What to do in Cusco?
You can walk around the city and discover all the mysteries hidden inside the walls of the beautiful Cusco, while you get to know the best tourist places and live amazing and unforgettable experiences. Cusco is a place where you can meet people from all around the world, a place with history, vibrant colors and incredible flavors around every corner.
But where to start? When you have so many options you need a plan and be organized to get the most of your adventure. So this is a list of 15 things to do and see in Cusco city that you can enjoy during your trip.
Things you must keep in mind:
Remember to take with you wherever you go:
Your ID (Passeport, DNI or Foreigner's Registration Card).

Vaccination Certificate with complete dose.

KN-95 mask or a 3 fold mask and a cloth mask. Have an extra one in your hand luggage at all times, just in case.

Face shield.

Personal alcohol dispenser to keep your hands disinfected.
Cusco is placed at 3.399 MASL and you could feel a little dizzy because of the altitude. That's why keeping some lemon candy in your pocket or having a Coca Mate ist a good idea and probably will make you feel better.
Apply sunscreen on your face, neck, arms and legs.The andean sun is very strong. You may also want to wear a hat.
Don't forget to make room in your phone or camera, to take as many pictures as you like.
Cusco city tourist sites
Cusco's Plaza de Armas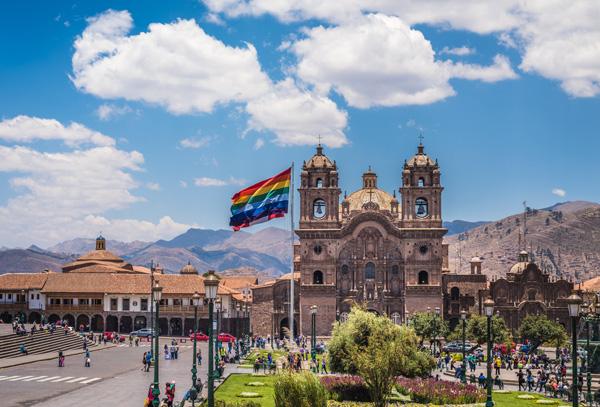 This beautiful plaza has a very special energy, and a very special history. According to the legend, this is the exact place where the first Inca sank his goldenrod into the earth looking for the perfect spot to start building the Inca Empire. This rod was given by the Sun God Inti to guide the Inca to this sacred place.
In ancient times, this plaza was divided in two parts with very different purposes. The first one was intended to gather the soldiers before battle and the second one was used for sacred ceremonies and celebrations by Inca and his people.
All the Inca edifications placed around the Plaza such as Huayna Capac´s Palace, Wiracocha´s Palace and the Acllawasi, were destroyed by the Spanish people to show their power, leaving just few stones only to build their own edification over the destroyed ones. They build new colonial edifications around and near by the Plaza like the Cathedral, the church of Compañía de Jesús and the convents of Santa Catalina and Santo Domingo.
The Plaza de Armas surrounding area is a fusion of architectural styles where you can clearly see the harmonious coexistence between Andean and Spanish cultures, which are definitely a very important part of Cusco's beauty.
The Plaza de Armas has a rectangular shape and shows six concentric paths that lead all visitors to the center fountain, which has a beautiful Manco Capac's statue on top . This fountain was installed in 1872 and it is still as impressive as it was then.
At our Inca Rail The Full Experience landing, you will find options and packages like
Machu Picchu and Cusco City Tour, where a visit to Plaza de Armas is included.
Cusco´'s Cathedral
It was built between 1560 and 1664, over Wiracocha´s Palace under the architect´s Jose Manuel Veramendi design. The difficult task was made for andean women and men and the chosen material were Sacsayhuaman Fortress huge rocks.
The Cathedral of Cusco is one of the most important colonial monuments of América and it contains a mix of architecture styles full of beauty and history.
It has a latin cross base crowned with a renaissance frontis. Inside it keeps all kinds of treasures, such as a magnificent collection of paintings of the Escuela Cusqueña, and gold and silver art pieces beautifully made with the highest quality ever seen. It has an impressive main altar and a large number of imagery pieces exquisitely carved by Cusquenian artists of the colonial era.
Getting inside the Cathedral of Cusco is like travel in time to the past. It is an experience that connects every visitor with the history of the Imperial City.
Qoricancha Temple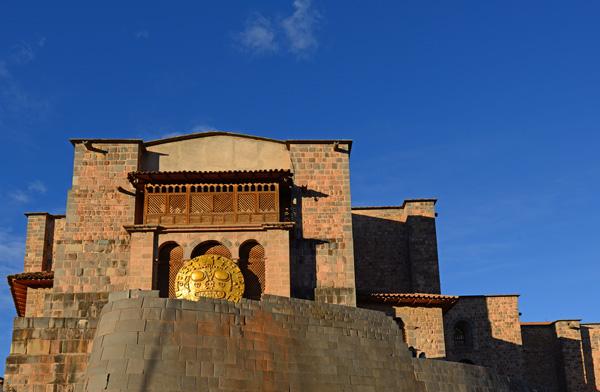 This temple is located only two blocks away from the Plaza de Armas, right in the middle of Avenida del Sol. This wonderful temple was the religious and political center of the Inca Empire, where the Sun God Inti was worshiped.
Qoricancha means something like "fenced place that has gold inside", and this sacred place was all covered in gold, even doors and walls.
The Qoricancha temple is full of rooms and inside little temples that were used to worship a lot of Inca deities such as the Sun, the Moon, the Stars, the Rainbow, the Lightning and the Thunder.
During the Spanish colony, a large part of this impressive construction was destroyed to make room for the Church of Santo Domingo. The base of the new colonial constructions were the solid walls of the Inca temples. A reminder of the defeat of the Inca Empire.
Do you want to know more about Qoricancha? Check out more about Cusco Ruins, Plazas & Landmarks.
San Blas neighborhood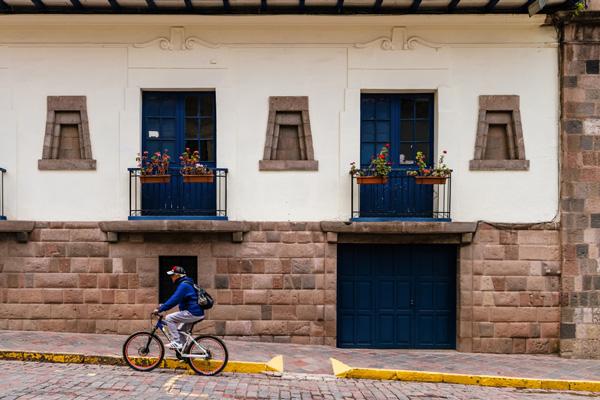 If you are in the mood for a nice and quiet walk around Cusco city, then San Blas is a very good option.
San Blas neighborhood is famous for its beautiful viewpoint, which offers the visitors a panoramic view of the city. It also has the first church built in Cusco, where you can see a magnificent carved wooden pulpit that belongs to Churrigueresque style, a very ornate rococo. But above it all, San Blas is known for its artisans, shoemakers, tailors, blacksmiths and tinsmiths. It is a place of charming little streets full of art and tradition, waiting to be discovered by you.
12 Angle Stone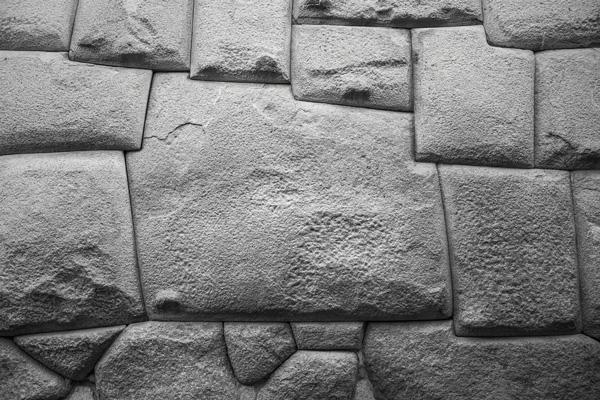 If you are walking towards San Blas neighborhood, then Hatun Rumiyoq is one of the little streets you will walk by on your way to the viewpoint. Just in the middle of the street in one of the many half Inca half Spanish constructions, there's an engineering and architectural treasure of the ancient peruvian people: the 12 Angle Stone.
This stone marvel has 12 sides that fits organically with other polished and perfect stones around it. This stone is made of diorite rock and belongs to a wall of the palace of Inca Roca.
If you are walking around the city and wanna see something amazing, go to Hatun Rumiyoq and take a picture of this Cusco wonder.
Sacsayhuaman Fortress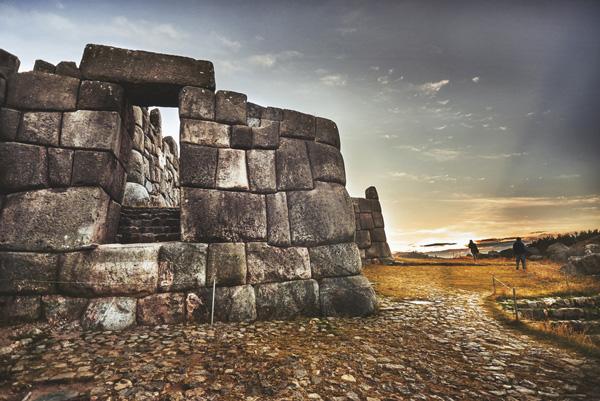 Sacsayhuaman is located 10 minutes by car from the Plaza de Armas of Cusco and about 40 minutes walk from the same point. It is a fortress that represents the skills and engineering management that the Incas possessed. This edification contained large warehouses for weapons and food, water channels and a special place for rituals and sacred ceremonies. It was built during the time of the Inca Tupac Yupanqui and the story tells that 20,000 men were needed to move and place the enormous stones you can still see today. According to chroniclers, Sacsayhuaman was built in 50 years.
There's only 40% left of what it was in the past and even so, Sacsayhuman fortress is still as beautiful and majestic as it was in the beginning.
Once you are there, you will be able to see flora and fauna of the area, such as the falcon for which Sacsayhuaman is named after. The site has a privileged view of the city and it will leave you breathless, so go up there and enjoy the experience.
You may also be interested in: Cusco Ruins, Plazas & Landmarks.
Qenqo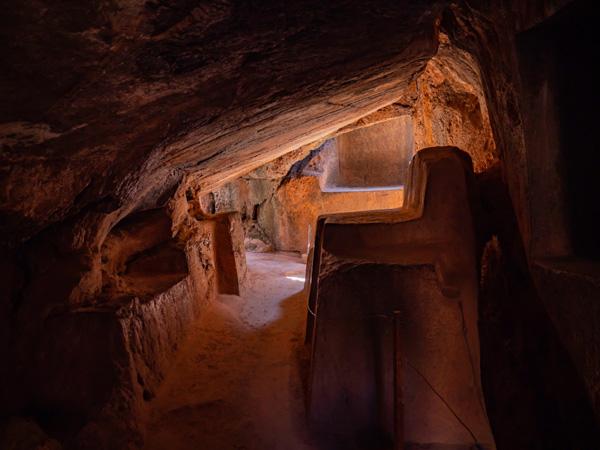 This archeological site is located only 4 kilometers away from the Plaza de Armas and it holds between its walls a lot of mysteries and unrevealed history. Quenqo is a very large site and has many buildings and different areas with an unknown purpose even today.
Quenqo is famous for its zigzagging stone carved channel that, according to local beliefs, could have been used to carry the blood of animal sacrifices. It also has a large amphitheater, a mortuary room and the Intihuatana, that in Quechua means something like "where the sun is tie to the earth", a sort of clock and an astrological calendar to study time, the stars and the year seasons.
There are many stories around Quenqo site and there is a lot of grund to explore, so it looks like you will have to go and solve the mysteries by yourself.
At Inca Rail you will find many packages to explore Cusco, with all you need included, for an amazing and unforgettable experience.
Buy the package of your choice, safely and with schedule flexibility. We recommend you our Machu Picchu and Cusco City Tour .

The White Christ Statue: a spectacular view of Cusco city.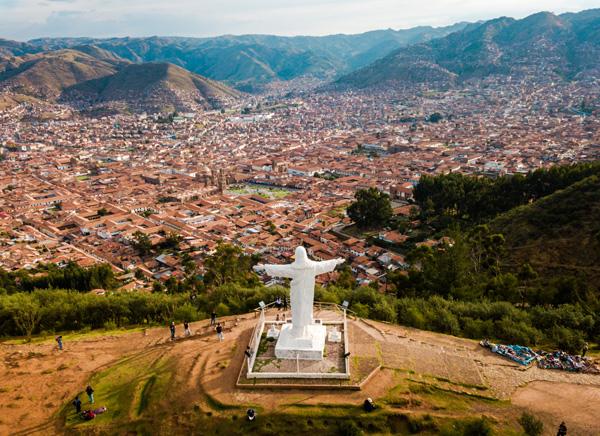 The statue is located 5 kilometers away from the historical center of the city on top the mountain Pukamuku. This place is a perfect viewpoint from where you can see the city as you have never seen it before. This statue it's also a religious symbol and it is considered as a vigilante to protect Cusco people's well being.
The White Christ is 8 meters high and very much looks like the Pan de Azúcar Christ in Brazil. It is supposed to bring peace and lots of blessings to the good people of Cusco.
This beautiful piece of art was made by the artist Francisco Olazo, and it was a gift in 1945 from the Arab-Palestinian colony. It is made of clay, iron, granite and wire. This is, without any questions, a beautiful figure that protects the city of Cusco from above.
¿What to do in Cusco City in one day?
You can visit all the tourist sites in Cusco in just one day, but you can also do some of these activities and have a great time.
Visit to the San Pedro's Market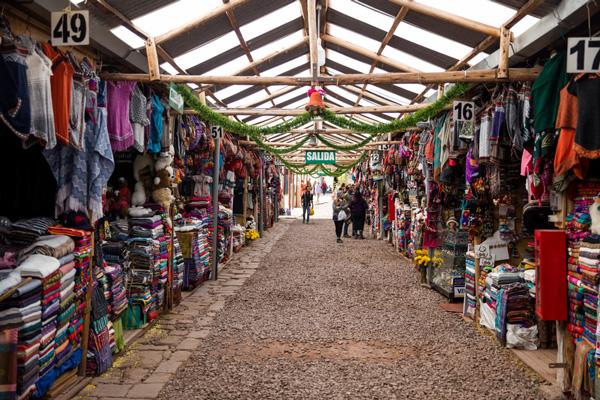 If you are in Cusco, you must visit San Pedro's Market, no questions asked. This market is also known as Mercado Central, and it is full of colors, textures, incredible smells and unexpected flavors.
The market is a gathering place where local and foreign people meet in a cultural exchange through a gastronomical experience.
San Pedro's market is located just in the middle of the city, only a few blocks away from the Cathedral, and it was a part of an Inca path a long time ago which was connected to the Plaza de Armas. This wonderful market was designed by Gustave Eiffel and opened in 1925.
This is definitely a place you should not miss out on, once you are in Cusco, because you will be able to taste fruits and vegetables, delicious cheese, traditional dishes and get to know very nice and welcoming people who will guide you through a memorable experience.
Planetarium Cusco: discover the Andean worldview in the stars
The Planetarium is very close to the historic center of the city, only 15 minutes away, following the road to Sacsayhuaman. This is a very special place, where visitors have the chance to experience an unforgettable time. Inside the dome, there's a night sky projection that shows traditional and Inca constellations as well. During this projection, the guide will tell stories about the stars, the constellations and the Andean worldview.
Have a taste of the best chocolate ever at the Chocomuseo of Cusco
This is a delicious destination for everyone who visits Cusco and it's conveniently located close to the historical center of the city. At the Chocomuseo you will learn about chocolate, the manufacturing process and the cacao plant through time. You will also be able to participate in a workshop that teaches you how to make your own chocolate bar and afterwards you will be able to buy some souvenirs from the little giveshop. The chocolate here is made with high quality ingredients and lots of love.
If you decide to visit The Chocomuseo, do it with us and be a part of a very special chocolate making and tasting workshop. Get all the details in The Full Experience: Chocolate making classes.
Pre-Columbian Museum Art of Cusco
Known by the local people as the MAP, the Pre- Columbian Museum of Art is a place that holds both history and tradition together, where you will travel 3 thousand years into the past to be a part of the ancient Perú.
The art pieces displayed in the Pre-Columbian Museum of Art are part of the Larco Museum's collection, one of the largest and best preserved art collections in Peru.
This exhibition will help you understand the process and evolution of the pre-Columbian cultures, through their materials and representations of their gods and nature.
If you are in Cusco you must visit the MAP and take a trip into the past .
Visit the house of Inca Garcilaso de la Vega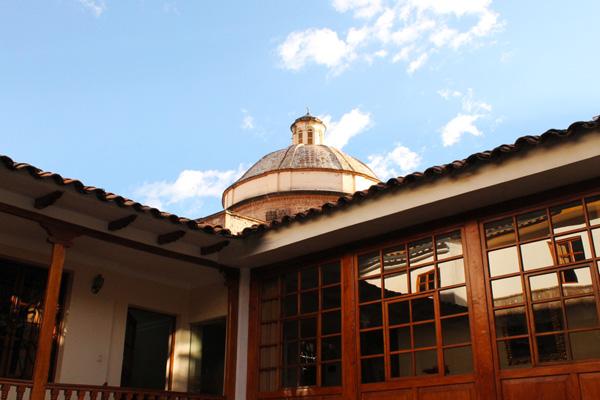 The Inca Garcilaso de la Vega´s house is today a Regional Historical Museum, a colonial traditional construction that contains both Inca and Spanish architectonic styles. It is located right in the middle of the historical center of the city, one block away from the Plaza de Armas in front of Plaza del Regocijo, between Garcilaso y Heladeros streets.
The museum has a large collection of art pieces from the pre-Inca period, such as ceramics, textiles, paintings and goldsmith. You must stop here and pay a visit if you are looking for things to do in the city of Cusco.
Gastronomic and culinary experiences
During your trip to Cusco you will taste a lot of different and exotic flavors, traditional dishes and some exceptional gourmet cuisine made with amazing Andean ingredients, a mix that will seduce even the most refined palate.
But when you are in Cusco it's not just about going out, finding a nice restaurant and trying new dishes, its more about living the experience from the inside. So, if you are into the magic of food and flavors, you must try this:
Private cooking class at Pachapapa Restaurant
In this experience you will enjoy a private Andean cooking class at the cozy Pachapapa Restaurant located in San Blas. The class takes approximately 3 and a half hours and will be an adventure for your palate. For more information, please visit: Cooking Classes at Pachapapa restaurant.
Potato Wine and Native Potato tasting
To live this adventure you will have to go a little bit far from Cusco city, all the way to Chinchero in the Sacred Valley. Once you get there, the professional agronomist Manuel Choqque, will walk you through a Peruvian potatoes native experience.
Here in Perú there are a great number of native potato types and we are the first potato exporter in the world. When you visit Manuel Choqque, you will taste some of the potatoes that only exist in Peru and also taste a variety of wines made from this ancestral tuber that is part of Peru's history of all times. This is a unique experience and if you are willing to try new things, you will be very satisfied.
To learn more about this experience, please visit: Potato Wine and Native Potato Tasting.
If you didn't know what to do in Cusco city, now you have a lot of options to choose from. You just need to decide which one you wanna try first, pack your suitcase and we will take care of everything else.
Travel safely with Inca Rail.
You may be interested in: Important things to know before visiting Machu Picchu