Ollantaytambo has plenty of history, mystic energy and great attractions. It is a mix of customs, traditional life and modernity. Offers many options for travelers and without doubt the scenery is simply splendid.
Are you looking for new destinations to visit during your trip to Cusco? Visit Ollantaytambo with us and enjoy an experience which will stay in your mind forever.
What is Ollantaytambo?
Ollantaytambo is a town in the Sacred Valley of the Incas along the Urubamba or Vilcanota River, surrounded by mountains and under a generous sky full of light in the day and full of stars in the night.
It is known by its ruins, a great Inca complex with stone terraces in the surrounding slopes. The archaeological complex is full of beautiful places, rich in history and the historic center is a beautiful fusion of Inca and Spanish constructions.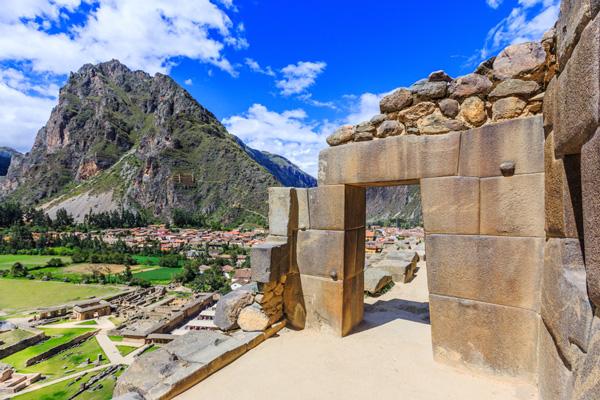 Where is Ollantaytambo?
Ollantaytambo is one of the seven districts of the Urubamba province, placed in the department of Cusco in the southeast of Peru. The town is into the Sacred Valley of the Incas at 45 miles (72 Kilometers) northeast of the city of Cusco, between Urubamba town and Machu Picchu on the Urubamba river route and it is one part of our country with extraordinary agricultural richness and a beauty that will leave you breathless.
How to reach Ollantaytambo from Cusco?

The surest way is to take our Bimodal service which consists in a private bus transportation from Cusco to Ollantaytambo and then continue the trip to Machu Picchu in one of our trains.
You can also make the trip by car or bus following the way to the Sacred Valley, departing from Cusco passing Pisac and going through Coya, Lamay, Calca, Yucay, Urubamba and finally Ollantaytambo. This route is the longest, takes approximately three and a half hours, so, be sure to have enough time to make it without problems.
This is the best time for knowing everything, so, maybe you can be interested in our packages. Enjoy the Sacred Valley of the Incas with us: The Full Experience Chinchero, Ollantaytambo, Maras and Moray one day tour.
Train from Ollantaytambo to Machu Picchu
For going to Machu Picchu from Ollantaytambo you have to go to the train station at Av. Ferrocarril with no number in Ollantaytambo, there you will board one of our trains which will take you to Machu Picchu Pueblo station where you may take the Consettur bus which will take you to the citadel.
You may also get your entrance ticket to Machu Picchu with a certificate guide in All Inclusive Inca Rail. Click here to purchase, you only have to select your travel date and quantity of persons which will accompany you.
The journey from Ollantaytambo to Machu Picchu in our trains is simply a delicious experience for your senses. The scenery is all that you expect and more. Our wagons are comfortable and wide and you may enjoy good music while traveling without concern because we follow strict biosafety protocols in all our trains.
At what height is Ollantaytambo town?
Ollantaytambo is placed at 9160 ft. (2792 meters above sea level), a height lower than Cusco city which is placed at 11151 ft. (3399 meters above sea level). This makes Ollantaytambo the perfect place for your first days in Cusco, allowing you to acclimate before starting with all your activities, tours and experiences you may wish to live.
It is important to remember the convenience to go slowly the first days of your trip to avoid altitude sickness or soroche.
Where does the name Ollantaytambo come from?
It comes from the quechua Word "Ullantawi" which means "The Place for Looking Down". It is thought that it comes from the end of the XVIII century and originated in a play staged by that time with Inca´s argument and the central figure was the general Ollantay.
The place where the story goes, according to literary evidence, was the low tambo in Yucay. During Inca empire times, a tambo was a sort of temporary lodgement, a building located at the side of an important road used by those who were part of the state. The tambo was used as a shelter and as a depot center for administrative and military use. The tambos were important places during the Inca empire times and they were very significant and they built a lot around their territory.
From the combination of the words Ollantay and tambo comes the name Ollantaytambo. This explanation given by certain chroniqueurs as the historian Victor Angeles, is not necessarily the most precise, because the name is registered in more antique documents such as the writings of Inca Garcilaso de La Vega.
A little of history about Ollantaytambo
During the times of the Spanish conquest, the town of Ollantaytambo was a temporary capital for Manco Inca Yupanqui, who led the resistance against the invaders. It was his vision to fortify Ollantaytambo town and its surroundings facing the route to Cusco city which, by that time, was already under dominion of the conquerors.
Even after having won several battles, Manco Inca did not feel safe staying in Ollantaytambo and went deep into the Vilcabamba forest looking for safety, today one of the fifteen districts of La Convencion province in the department of Cusco.
In 1540 Ollantaytambo was assigned as encomienda to Hernando Pizarro, brother of Francisco Pizarro and one of the Spaniards in charge of conquering Inca's territory.
The encomienda was a Spanish labor system which benefited the conquerors with the work of native groups of people who did not know about Christian religion. The workers should get compensation from the Spaniards for their work, but this part of the deal was not always honored since the teaching of Christian faith was considered enough reward for some masters.
What to do in Ollantaytambo?
Visit the Ruins in Ollantaytambo
The archaeological complex at Ollantaytambo is, up to today, a construction of imposing presence which was a military center, also a religious and agricultural one during Inca's empire times. This great architectural place is remarkable for its size and the great amount of details in its construction.
Ollantaytambo dates from the time of Inca Pachacutec, as the construction of the wonderful citadel of Machu Picchu during the peak of the Inca Empire. Thanks to its location, Ollantaytambo was a strategic place for the fight against the Spanish conquerors and even today it looks spectacular with its terraces (andenes) made of stone and its tall stone walls up to 13 ft. (4 meters) high. The construction is impressive and is surrounded by a cloak of magic and mystery.
This fabulous construction was made with rocks from a close quarry at around 6 kilometers from there. It is being said that for transporting all this materiel an extraordinary engineering work was necessary, diverting the river waters with channels around the place.
Ollantaytambo is full of architectural jewels such as fountains, temples and terraces, a marvel of ancient Peru.
Go run The Templo of the Sol
Andean Cosmo vision (worldview) looks to the sun as the creator god and father of the Andean world. For this reason in Ollantaytambo, as in almost all archaeological sites of ancient Peru, a temple was built dedicated to the Creator God, the Sun.
This temple has 150 stair steps perfectly cut in stone, is made of granite and on it can be clearly seen a wall of six monoliths erected and united by stone sheets which had an antiseismic function. This edification passed through the hands of several architects and that is why it never was completed as was pretended at the beginning.
Some of the stones of the temple weights well over four tons, and for this reason is thought that many of the great stones which can be found on the road are those which never reached their destination and are known as "tired stones"
In order to transport those big stones, a water channel system was designed for displacing the river waters and then to be able to cross those enormous rocks. Rolling stones and rollers were needed, the strength of thousands of men, leather cords also were used to make it, a titanic labor which endures in time and still today is marvelous.
Meet the Ñusta Fountain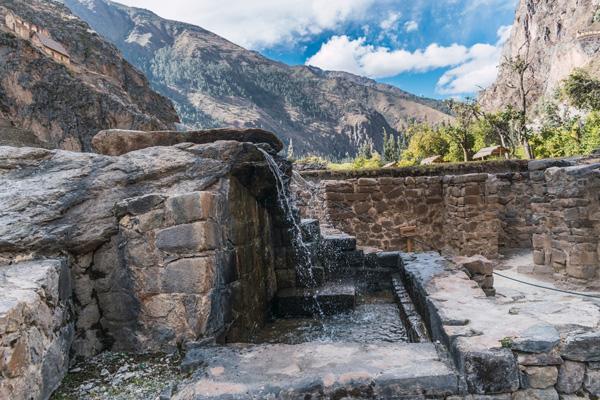 Old Peruvian inhabitants choose this part of the Sacred Valley to build Ollantaytambo not only for its beauty or fertile land, but also for the subterranean channels they found in this area. They designed an aqueduct system so good that they are being used today. One of the samples of their engineering knowledge is the Ñusta Fountain or the Ñusta Bath, considered one of the most beautiful fountains made by the Incas, is made in one stone and decorated as a portal.
This fountain was used for purification baths for the Inca's wife. One detail which has to be mentioned is that if you put your finger where the fresh water runs, the water flux stops.
Walk through Ollantaytambo Town
Ollantaytambo is known as a living Inca town because the community maintains alive and current many of their ancestral mores or customs. Even when the main tourist attraction is the archaeological site, Ollantaytambo town has much history, colors and life.
It has been said that who ordered the construction of Ollantaytambo was Inca Pachacutec (1438 – 1471) in the XV century. Today the town combines stone streets, Inca buildings and colonial squares in perfect harmony, meanwhile includes modern elements which allow the traveler to find what they need to stay in Ollantaytambo.
Ollantaytambo is on the Machu Picchu road, this will allow you to make a stop in the town to know it and visit the archaeological site.
Once you arrive to Ollantaytambo town, you will find that there are many things you can do and places where you can go, for instance:
Walk by Main Square
As soon as you arrive in town, you should visit the Main Square where you will find all touristic services you may need. Also you will find the train station to Machu Picchu very close to the square, so you will not be lost. If you are curious, want to explore and want to fill yourself with history, you may visit the Santiago Apostol Church.
Visit the Catcco Museum
Catcco means Centro Andino por la Tecnología y Cultura de las Comunidades de Ollantaytambo (Andean Centre for Technology and Culture of Ollantaytambo´s Communities). Catcco Museum is a cultural center with an exhibition of handicraft pieces made by Ollantaytambo´s artisans, offers information for visitors about activities and touristic places; it has a conference room and includes a didactic exhibition about Ollantaytambo´s origins.
Go to Pinkuylluna archaeological site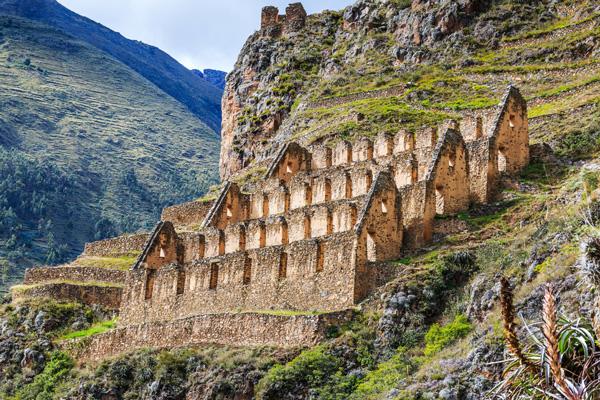 Pinkuylluna is an archaeological site where great food depots were placed, up to the top of the mountain. Those were used to store maice, potatoes, coca, etc.
Those depots were placed at high altitude to secure a better conservation of foodstuffs due to lower temperatures at the higher altitudes of the Peruvian Andes.
From above all of Ollantaytambo town can be seen and from below the archaeological remains are clearly recognizable. Nevertheless, Pinkuylluna is one of the less known sites in the tourist circuit near Cusco.
Dare to go to Perolniyoc cascades
The Perolniyoc waterfalls are a natural attraction of great beauty, perfect for adventure sports. They are found at the outskirts of Ollantaytambo town, a 30 minutes walk from Socma town.
Those waterfalls have a drop of 328 ft. (100 meters) from the top to the basin. If you look for adventure and nature, this is an experience you can not lose.
Enjoy Yanacocha lagoon
Yanacocha is only 16 miles (26 kilometers) from Ollantaytambo in the Huayabamba town, and is a tourist attraction very popular among close communities and towns near Ollantaytambo.
Yanacocha means Black lagoon and takes its name from the color of its waters. This area is used for camping and trekking while you enjoy the breathtaking scenery rounded by mountains. If you decide to visit the lagoon take in account that you will have to walk for almost four hours to reach the place.
Make experiential tourism in Ollantaytambo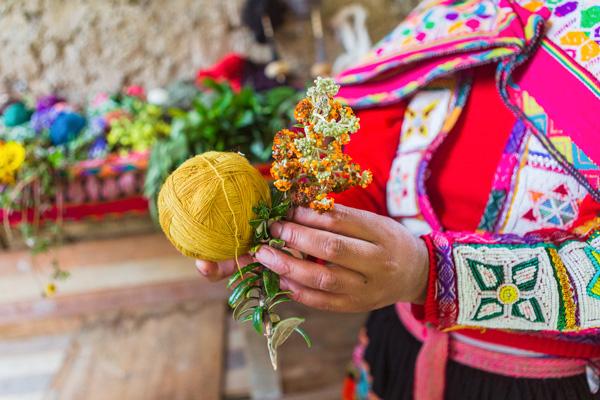 Experiential tourism is one of many reasons to visit destinations like Cusco because it allows visitors to experience, even for a short time, how it is to live in the place.
Experiential tourism helps local economies of towns and communities, helps to empower the most vulnerable groups and helps to develop socio economic growth in the communities that take part in this type of tourism.
In Ollantaytambo, the community of Willoq offers experiences related to their customs, such as land cultivation and knitting with ancestral techniques. Willoq is 45 minutes from Ollantaytambo by car, and opened its doors to this type of tourism in 1992.
Experiential tourism is of great benefit since it helps to the communities to grow economically and socially, transmit their knowledge and maintain their customs even in this time of modernity and digitalization, meanwhile allows the visitor to immerse in a kind of life which goes in a paused way among trees, river and stars. Experiential tourism goes in the hearts of each traveler and not only in the souvenirs which he can carry with him.
Walk the Inca Road
Ollantaytambo is on the road to Machu Picchu, you can do it by train or walking the Inca Road. Have you heard about it? Well, it is a very old road, built under Inca Pachacutec's orders with the purpose to connect Cusco city with Machu Picchu.
Along the road there are up to today many Inca constructions which made part of the scenery and improved the experience.
This walk takes around four days, with a distance close to 25 miles (40 kilometers), so you can see that it is physically very demanding. During the trekking you will see archaeological Inca sites such as Patallacta, Q'ente, and Wiñaywayna where the scenery is indescribable. You can reach Machu Picchu in the morning of the fourth day and all the effort should be rewarded.
Visit Ollantaytambo's Market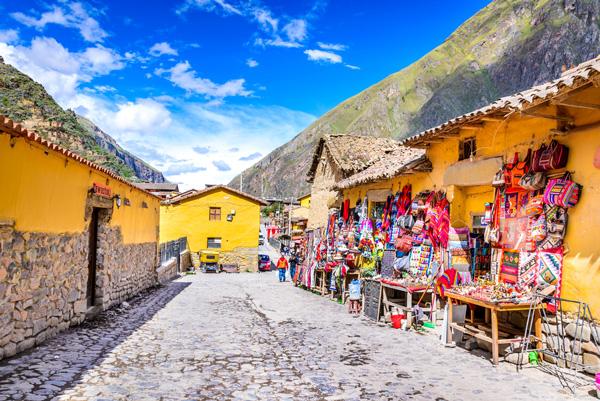 As in almost every town around Cusco, in Ollantaytambo you will find a handicraft and local products market. Stroll through the market and surely you will find many souvenirs beautifully made by local artisans.
Maybe you can read in many traveler blogs that haggling is expected when you go to buy a handcrafted product, but before you do it, think about the work that it takes to make it by the artisan for each piece they offer. Acknowledge his work and pay a fair price.
Where to lodge when in Ollantaytambo?
As in many touristic places in Cusco, Ollantaytambo offers several options to Lodge for travelers. Hotels, Hostels, backpackers, boutique houses or AirBnB, the possibilities are many and depend on what you are looking for as a travel experience.
Where to eat?
Eating in Peru is always a pleasure no matter where you go, and Ollantaytambo is no exception. You will find a variety of places, prices, dishes, small coffee shops like La Esquina del Café, a place to eat a sandwich with a cold or hot beverage or whatever you wish.
If you look for something more elaborate, El Albergue has delicious dishes and very tasty and powerful cocktails. But if you prefer something more traditional, the Ollantaytambo´s Market has all of those traditional flavors of Cusco.
Ollantaytambo waits for you with open heart and open arms, ready to share its history, uses, beauty and all its magic.
Dare yourself to explore Ollantaytambo and surrounding towns, come into Sacred Valley: Chinchero, Maras, Moray & Ollantaytambo and let us take care of everything while you enjoy the experience of the Andean world.
Travel without hassle, travel safe with Inca Rail.