There are places which you can not miss when visiting Cusco. There are so many magical places, such as Machu Picchu, the Rainbow Mountain, a city tour including religious sites, museums and landmarks, hike to Humantay Lake, and of course, the beautiful Incas Sacred Valley. The Sacred Valley has a lot of amazing sites to visit, like Pisac, Ollantaytambo, Urubamba and Maras Salt Mines.
¿Did you ever imagine seeing salt mines right in the middle of the mountains over 3000 meters altitude?. Well, Maras is exactly that: a spectacular salt mine that makes the mountain looks all white, beige and brown, and we are going to tell you all about this magnificent place: where is it, how to get there, a little bit of its history and everything you will see once you get to Maras.
What is Maras?
Maras is a salt mine located in the Peruvian mountains which has over 3000 little salt pools that have been used for the local people even before the rising of the Inca Empire.
The salt mines are located on the hillside and fed by a salty water stream that feels every pool by an irrigation canal system.
Maras salt mines means tradition and ancestral customs for the local people, and even today, a source of income and work for the nearby communities.
Where are Maras salt mines located?
The salt mines are located about 50 kilometers (31miles) Cusco's northeast, at 3200 meters altitude above sea level and it offers a spectacular view of Inca's Sacred Valley.
The salt mines are located in the lower part of the Salineras stream that flows right into the Vilcanota River, between the rural communities of Maras and Pichingoto, between Qaqawiñay, Cruz Mocco, Llully Mocco and Chupayoq hills.
How to get to Maras Salt Mines from Cusco city
To go to Maras you will have to take a bus or any other type of ground transportation, so you can be there soon enough to start your adventure early in the morning and get the most of it.
The salt mines are located 10 kilometres away from Maras Town, 26 kilometres from Chinchero and 16 kilometres from Urubamba, so as you can see it's pretty easy to get there from any of these places.
How are the salt mine pools like
There are a set of small pools built by the ancient Peruvian people and together there are more than 3000 total. They are built in the form of staggered terraces on the slopes of the Qaqawiñay hill. They measure around 5m2 each, are shallow water and together occupy an 1500 m2 area, approximately.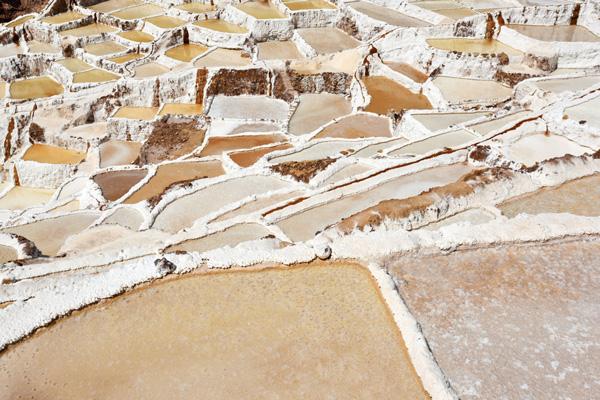 These pools have been made with mud that delimit each one of them and are fed by an irrigation system that distributes water evenly, which, according to the people of the town, has pre-Inca origins. It is surprising to see how the pools and the water circulation system are still intact and in perfect working order to this day.
A little bit of history
Local people say that the salt pools were built by Wari men and women, long ago between 500 and 1100 b.C. Later, during the Inca times, they took Maras to managed the salt mines in the best way possible. They used the salt not only for flavoring food, but to keep the meat from ruin and preserve other products. The management of the salt mines was given to the nearby community families which have kept the secrets of the processes of salt extraction, as their ancestors did before them.
These secrets have passed from generation to generation and are treasured by local men and women as well as many other Andean traditions.
How do they make the salt in Maras?
This is a procedure that is only made by local women and men and not for outside enterprises.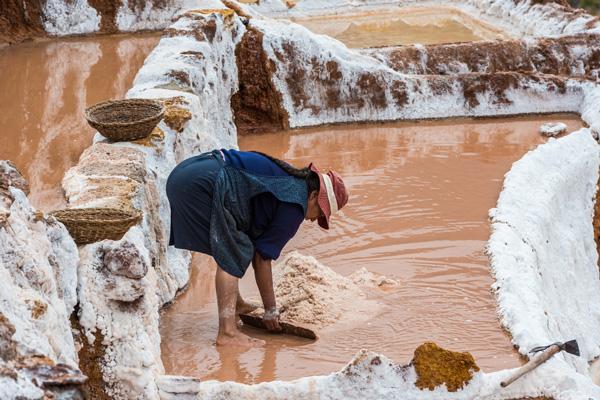 The process is still the same as the one used by the Incas and it starts with washing the pools with salt water and then filling them through the irrigation canal system with water from the stream, but only 5 cm deep. Then the water is left to evaporate for three hall days and the process is repeated for a complete month. Normally at the end of this cycle, a 10 cm high sediment is obtained and then extracted by breaking it using feet, hands, spatulas and straining to avoid impurities. This process results in three different layers or salt qualities. The first is for domestic use, the second has the same purpose, but it is less refined and is known as bulk salt, and a third quality is for industrial or agricultural use. It is estimated that each salt pool produces between 150 and 200 kilos of salt per month.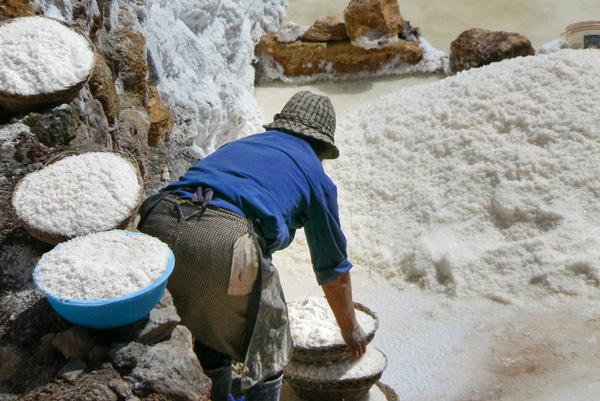 Maras Legend
The story tells that the water that feeds Maras salt mine pools are the tears of Ayar Cachi, who was trapped forever in the cave Capac Toco in the Pumaorqo mountain, a place very close to what is today Cusco city. He was betrayed by his brothers, Ayar Manco, Ayar Uchu and Ayar Auca, who along with Ayar Cachi, were Wiracocha´s sons and the chosen ones to start the Tahuantinsuyo Empire.
Maras pink salt
In the salt mines of Maras you can find natural pink salt. It gets its particular color from the minerals and other natural elements in the water that comes from the mountain. These minerals are magnesium, calcium, potassium and silicon.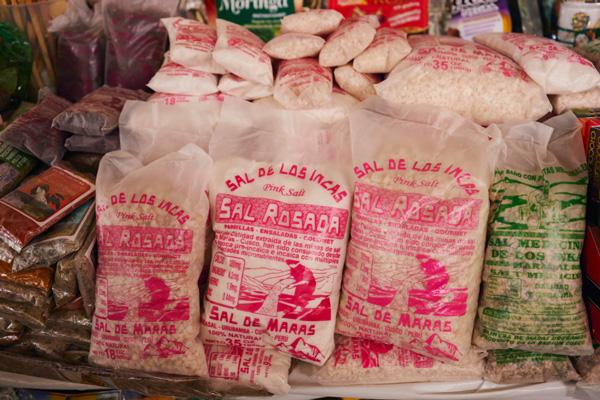 According to what is known, there are only four places in the world where salt of this color can be extracted and Maras is one of these spectacular places.
It is also said that Maras salt is good for health, as it contains low levels of sodium chloride.
Why you should visit Maras and local communities
When you decide to travel you can choose the kind of experience you want to live. You can go shopping or you can choose to live an amazing experience where you are not only visiting a different country, but truly getting to know their people, their customs, traditions and all the history behind every archeological site, landmarks or town.
When you visit a community such as Maras you are contributing to the local economy and creating benefits for the families that are part of it.
Is the Cusco tourist ticket needed to visit Maras?
Maras is not included in the tourist ticket for places to visit in Cusco, that's why you can't pay in advance for it. Buy our package to visit Maras and Moray which includes transportations and a certified guide, and see Moray´s concentric terraces that were used as an agriculture research center. The entrance to the salt mine costs S/.10 and is paid on site. We invite you to make come true your plans, just by clicking here: Visit to Maras and Moray
Things to take with you on your visit to Maras
ID document

Vaccination card with full doses (people over 18)

KN-95 Mask

Hat

Sun glasses

Sun screen lotion

Bottle of water

Some Coca o lemon candy

Cash

Raincoat or rain poncho (depending on the season)
What's the best time to visit Maras?
You can visit Maras at any time of the year and each season will have a particular charm.
If you travel between October and April, the rain will make the Inca´s Sacred Valley green and beautiful. If you travel between May and September, you will avoid getting wet when you go hiking. Both seasons are perfect to get to know Cusco and all its amazing destinations.
Maras Town
Once you are done with the salt mines, don't forget to visit Maras town, where you can walk around it landmark, see the church and have a taste of delicious local dishes.
Maras is very important in the history of the Inca´s, because salt has been and still is a natural resource for human life since the beginning of time. Economy has been built around it, trade routes have been created for it, wars have broken out and it has promoted the growth and development of the people around this precious mineral.
Maras maintains until today the traditional techniques of production and extraction of salt, being a jewel sustained through time, in a world that today does not admit delays or pauses. Maras is an example of perfect harmony between nature and the respectful work that the Andean people of Maras do every day.
Meet Maras on your trip to Cusco and be sure to visit the Sacred Valley of the Incas.
Find the experience that suits you the best in The Full Experience and we will take care of everything else.