Travel to Cusco this 2022 and don't miss out visiting the Inca Citadel traveling by train to Machu Picchu. At Inca Rail we apply all the biosafety protocols so our passengers are protected against the contagion of the omicron variant.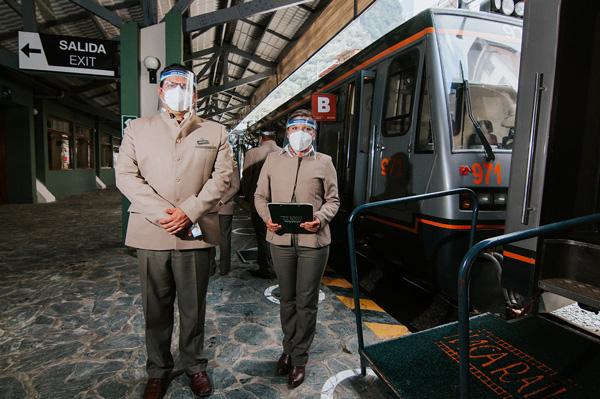 Your safety is very important to us, which is why we have designed a system that adjusts perfectly to biosafety protocols worldwide. This system allows you to travel safely and without hassle on our train services to Machu Picchu. This system is a very important part of our "Plan for Surveillance, Prevention and Control against COVID-19" approved by the Peruvian Ministry of Health.
In this article we want to give you some advice for your peace of mind, and to let you know why it is safe for you to travel with us by train to Machu Picchu.
Biosafety Protocols
At Inca Rail we are committed to your well being, therefore we have implemented a system certified by the SGS, that acts in accordance with the most demanding biosafety protocols. Travel with us and enjoy Machu Picchu without hassle.
Sanitized Trains
Our trains are equipped with an air purification system that guarantees a bacteria and virus free environment inside the wagons. This system works with three different modules: Ion, Photocatalyst Filter and Ultraviolet Radiation (UV-C 254 nm). The three of them work at the same time guaranteeing a complete air purification allowing us to operate at full capacity of the trains. Learn more about our sanitized trains here.
Departure lounges and train protocols
At Inca Rail we make sure of cleaning and disinfecting our trains before and after each trip, in all our rail stations (Ollantaytambo and Machu Picchu Town).
We will guide you and take care of your needs every step of the way. We will help you follow biosecurity protocols and will make sure you get everything you need to fully enjoy your experience from the moment you board the train, until you arrive at your destination.
At our facilities
Wear your mask and face shield correctly.

Your hands and footwear will be disinfected.

Our trained staff will take your temperature, which must be less than 38Cº.

At the waiting room you must maintain a distance of 1.5m from other passengers at all times.

Show your boarding pass and ID from your phone or electronic device to avoid contact and reduce risk of contagion.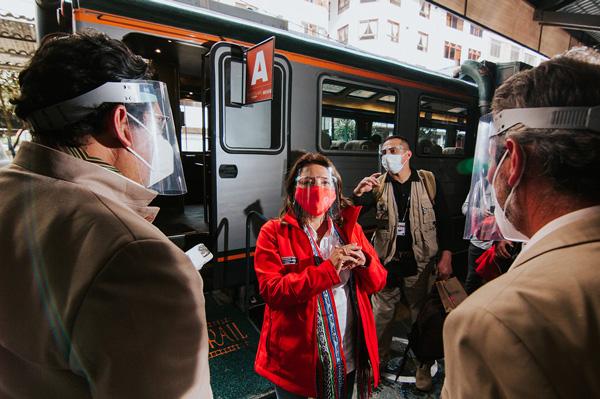 At boarding time
Your luggage will be properly disinfected by our staff, who will guide you to board our train in an orderly and safe manner.

You should have your boarding pass and your ID with you at all times.
At the train to Machu Picchu Town and/or Ollantaytambo
The use of the mask and the face shield is mandatory at all times.

You must stay at your assigned seat to avoid crowds at transit wagon points.

Remember that you are not allowed to drink or eat inside the train, to reduce the risk of contagion of omicron or any other COVID-19 variant.

Our on-board staff is trained to handle any suspected case of COVID-19 during the trip and has an emergency kit and a first aid kit specially implemented for this situation.
When you get off the train
You must take all your personal belongings with you . If you forget something on the train, our staff will disinfect and properly packaged to be stored until you claim it.

Our on- board staff will guide you to get off the train in an orderly manner and with the required distance.

Our cleaning staff will disinfect the train wagons after each trip, as well as the waiting rooms, customer service areas, toilets, etc.
We are committed to create a safe environment for you to travel from beginning to end so we can make your visit to Cusco a memorable thing. Live the Inca experience with us while traveling by train to Machu Picchu with the peace of mind that we watch over your safety.
Things you must have to board the train to and from Machu Picchu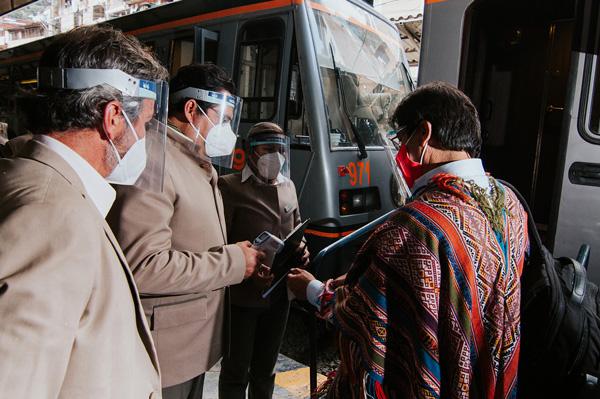 Vaccination Certificate: Before starting the trip remember that all passengers over 18 years old, must show their physical or virtual vaccination certificate with the full doses, required by the Peruvian Ministry of Health, before boarding our trains. We recommend you to carry this important document with you at all times. For more information visit our terms and conditions.
Passport, DNI or CE: Always have your physical and virtual ID with you, so you can identify yourself without contact.
Mask: You must wear a KN-95 mask or a 3-fold surgical mask plus a reusable cloth mask whenever you are in a public space. We recommend that you carry a spare mask with you just in case yours suffers any unexpected damage.
Face Shield: Starting November 20th 2021, the use of a face shield is no longer mandatory inside our trains, according to the dispositions of the TCM (Transport and Communications Ministry of Perú) and MINSA (Ministries of Health), who have updated the railway guidelines of COVID-19 spread prevention. This is stated in Ministerial Resolution 1171-2021-MTC/01 in El Peruano.
Sworn Statement: This document is no longer required according to the new dispositions of TCM of Perú, which was mandatory until recently.
We strongly recommended having a personal alcohol dispenser with you at all times for your own safety and peace of mind.
For more information visit our web page.
You can also read:
Get to know us and compare our trains and services
Are you looking for things to do in Cusco? Visit The Full Experience
Travel safely with Inca Rail