Are you looking for more surprising destinations during your trip to Cusco? We present to you Chinchero. Chinchero is a charming town which combines color, textures and architectural styles which contrast with its clean and bright sky; a little jewel very near to Cusco city with history and soul of its own. Do you want to know what to visit when arriving at Chinchero? In this article we will tell you everything you need to know about Chinchero.
Where is it located and at what altitude?
Chinchero is located only 30 Kilometers (19 miles) from Cusco city, almost as close as the nice Pisac town and at 3760 meters above sea level, some 350 meters over the imperial city. The scenery is wonderful and the textile activity is intense and of unbelievable quality. Chinchero is a town that keeps many of its ancestral traditions such as textile and agricultural activities, clothing and bartering.
Chinchero is a show of colors and andean uses, fusioned with traditional colonial elements which stayed to form a new culture.
You may be interested in: The Full Experience, Chinchero Ruins private half day tour
How to arrive in Chinchero from Cusco city?
Chinchero is located north of Cusco city on a road to Machu Picchu. You can go from the imperial city by land transportation and It takes around 40 minutes.
A little of history
Chinchero´s district was created officially under the government of President José Pardo y Barreda in 1905 but has much more history before that moment.
Before the Incas, the Ayamarcans were the original inhabitants in this zone, etnia which came from the disappeared Wari culture. The Ayamarcans were ferocious warriors who fought for their independence with the Incas, finally they were subdued and incorporated to the Inca Empire as many other cultures did.
The Tupac Yupanqui Inca chose Chinchero due its beauty to establish his residence and beautiful palaces were built for his rejoice.
During the Spanish conquest Manco Inca rose up in arms and put Chinchero on fire for cutting the supply route for the Spaniards and to cut the way to the soldiers which were after him.
When Viceroy Toledo arrived in Cusco, he visited Chinchero and ordered the construction of the church, the same one which exists up today, built over Inca ruins as was usual at the time.
Today Chinchero is a town of well organized textile artisans who lived from their production and tourism. Would you like to know what you can visit at Chinchero? We have some ideas for starting the trip together.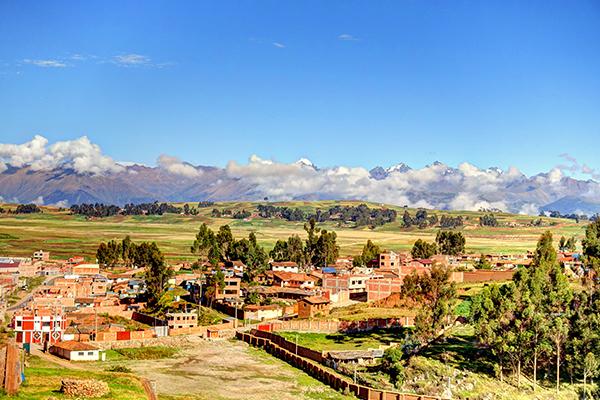 Chinchero´s archeological park
It is one of the main attractions in town and its construction dates from Inca´s time. Is conformed with an agricultural enclosure of big size with an extension of 43 Hectares, more or less 430,000 square meters
Into this beautiful place still can be seen stone walls and terraces where diverse products were cultivated in the past, one of those products was potatoes and its extensive crop gave to Chinchero great value and importance during Inca´s time.
In this land was erected the palace for Inca Tupac Yupanqui in a place where centuries later human remains were found, also ceramic pieces and stone works which now are on exhibition in Chinchero´s site museum. But Chinchero still keeps hidden treasures among the antique constructions as is, so that in 2018 several enclosures and buried terraces were found which until then were unknown.
You may be interested in: The Full Experience: Chinchero and Ollantaytambo
Tupac Yupanqui´s Palace
According to stories from old chroniclers, Inca Tupac Yupanqui´s palace was built in 1480 during his tenure as head of the Empire and was located in the middle of the present archeological site of Chinchero. In this palace the Inca died in 1493 and years later in 1536 the palace was destroyed by the Spanish conquerors.
Today very little remains from the palace and the life lived by ancient Peruvians before the Spanish colonization, but it is still possible to see a strong wall along the Chinchero´s plaza were 12 trapezoidal niches remain, this form was characteristic of Inca´s constructions. If you visit Chinchero you may see these and other beautiful antique buildings.
Colonial Church Our Lady of Montserrat
During Spanish colonial time Viceroy Toledo visited Chinchero and ordered a church over the remains of native buildings, specifically over the ruins of the Inca's palace. The church of Our Lady of Montserrat (Nuestra Señora de Monserrate) keeps invaluable treasures such as several works of the painter artist from the Cusco´s school of painting Diego Quispe Tito. The altar of the church is firmly worked with gold leaf and where is located the image of the Christmas Lady (Virgen de la Natividad)
Today the church is one of the main attractions of this town, so, if you visit Chinchero you must go into this church and know all about it.
Handicrafts market
If you pass through Chinchero it is not possible to avoid visiting its market or handicraft market, which can be found in the main plaza on Tuesdays, Thursdays and Sundays. In the handicrafts market you can find a great variety of textile works richly worked but mostlyl of great quality since Chinchero is well known for its talented textile artisans and basket makers. You may also find typical dishes and some local ingredients which very often are bartered, an ancient use which still is practiced among the communities around Chinchero.
Don't let pass the opportunity to visit the market, an experience of colors, smells and flavors which are memorable.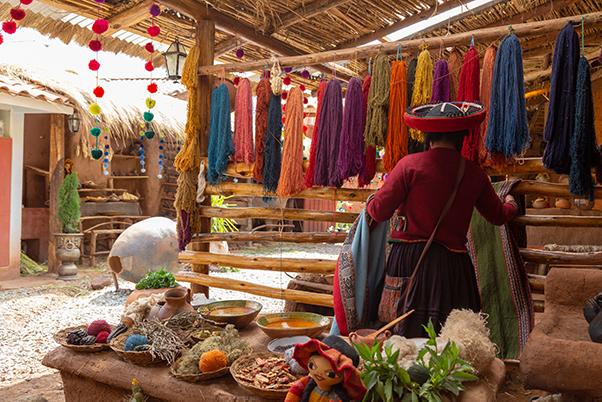 The Inca´s balcony
It is a lookout from where you have a total and privileged view of the archaeological site of Chinchero. From here you can take spectacular photos of the surroundings and the ruins. At the same place there is a sort of market with products made by a women's cooperative who work textiles in the traditional way, they spin, color and weave as their ancestors did and they share their stories with whom they wish to hear them.
Visit the Puray Lake at Chinchero
At no more than a 50 minutes walk from Chinchero is Puray Lake, an old water reservoir from Inca´s time that provided water to Cusco city. If you visit Chinchero you may take an organized excursion to Puray´s Lake and enjoy breathtaking but also quiet scenery, also you may choose some adventure sport such as kayak, mountain bicycle or stand up paddle.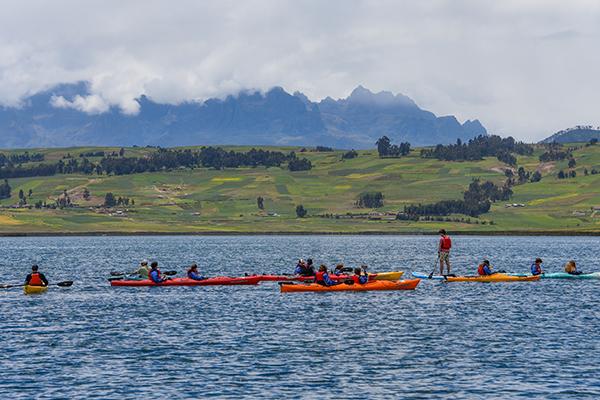 Aclla´s Textile Center
More than a fair or market, Aclla is an association of weaver women who came from different nearby communities who work with local materials. Those women not only produce fabrics or objects for sale but through this activity they maintain their ancestral uses and they share them with the visitors who are ready to experience Chinchero from inside.
Kantu´s Textile Center
Kantu is a sort of textile laboratory which has been working since a few years ago in Chinchero and is part of a family undertaking.
Kantu is made by several families from different communities and has as its purpose to generate income for those families and other members of their communities through sale of textile products. But not only offer to the visitors the finished products, the experience of processing andean textiles made by hand by the best weavers of the zone is offered. Kantu is a magical place where traditions and uses of men and women of ancient Peru remain untouched in time.
Now it is time for you to come to Perú, visit Cusco and experience Chinchero and its traditions. You will love it.
Travel with no hassle, travel safe with Inca Rail.